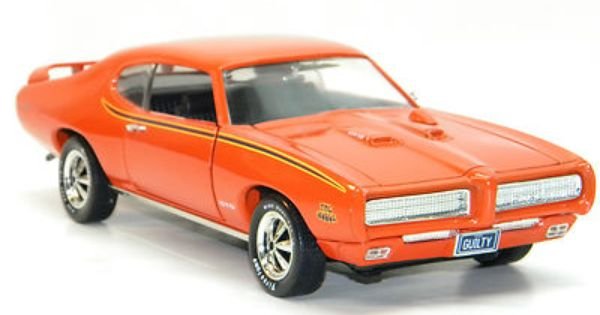 At over 15 years old, the American Muscle line of diecast cars from Ertl are what inspired many of us to start collecting diecast models. Budget models found in many hobby shops and larger stores like Toys R Us or even, more recently, online suppliers such as Silent Autos would rekindle that model car collecting fire from days when we were younger. The first releases from the American Muscle line were very crude models by today's standards but they still captured the spirit of the American Muscle car from our pasts. These models were a large part of the hobby as they gave us a weekly objective…check every store in a 20 mile radius for new models and search for those precious diecast chase cars. While most larger stores no longer carry the American Muscle line, they are in most every hobby store and can easily be found online.
American Muscle Authentics Series
While the budget models were a doorway to the hobby for new collectors, they often left serious collectors wanting more details. Though several mergers and acquisitions slowed the development of highly detailed models, collectors finally got the diecast cars they had been begging for with the P-100 (or Precision 100) series in 2000. Later, in 2003, the P-100 series was replaced with the Authentics series which is the holy grail of detailed diecast cars from Ertl. With over 200 parts, they feature opening doors, hoods, and trunks with working suspension, realistic hinges, accurate bodies and badges, etc. Still selling for under $50 US, the Authentics series is hard to beat for the money.
American Muscle Elite Edition
If the American Muscle Authentics Series is a little out of reach price wise, Ertl is still making affordable diecast cars under the American Muscle Elite Edition badge. Just because these models aren't Authentics doesn't mean that you won't get detail. They still have opening hoods, trunks, and doors along with detailed interiors, chassis, and engine bays, and these are still in high demand. There are even several Ertl collectors clubs throughout the world that are dedicated to collecting these models alone. With limited production runs, a serialized chasis, and the chase cars, there is plenty of fun to be had. Recently Ertl has changed chase cars from the classic chrome cars to various different options. For example, the Copper Monte Carlo chase car comes with a different color interior. For those of you that didn't care for chrome cars, this will certainly give you other options for collecting.
American Muscle Glory Days
Are you getting old and want to relive your glory days? The American Muscle Glory Days series may be for you. With several releases featuring cars from the 50's and 60's, these Glory Days cars are meant to recreate scenes from your past. A "Just Married" '67 Chevy convertible features a bride and groom driving away from their wedding with the car freshly decorated by friends and family. Another '55 Chevy goes back a little further with steamy windows and a couple in the back seat. Not only do these models let you enjoy one of your favorite older cars, they also provide a snapshot of your past.
American Muscle Collector Edition
The American Muscle Collector Edition features cars from the more recent past. Providing a level of detail similar to the Elite Edition, the Collector Edition is targeted towards younger collectors and the tuner car market. As one of the fastest growing segments of the car market, Ertl is looking to spark the interest of a younger generation for collecting diecast cars. Not only are they including cars like the Mazda RX7, but even newer models such as Pontiacs latest edition of the GTO.
For a full range of diecast model cars, please visit www.silentautosmodels.com